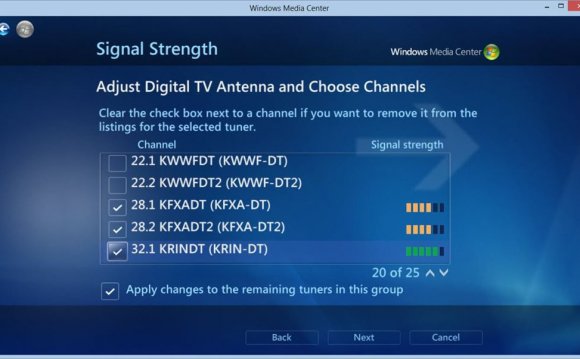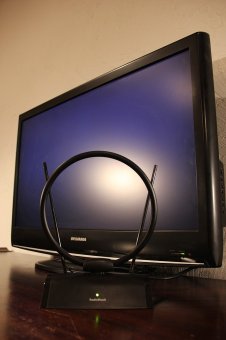 This indoor amplified HDTV antenna cost $35 at RadioShack and picks up 24 channels at Max's house.
On a recent evening, I was sitting at my work desk at home.
Behind me I could hear Captain James T. Kirk of the Starship Enterprise calling out commands as his crew struggled to avoid a treacherous situation in the movie "Star Trek II: The Wrath of Khan."
I don't own the movie. I wasn't streaming it from my computer in any way. And I haven't paid for cable or satellite television in nearly a decade.
Rather, I was using an indoor amplified HDTV antenna I just bought and attached to my 2008, 32-inch, off-brand flat screen television.
The antenna is essentially a modern model of a good old-fashioned set of rabbit ears set-up with a wire loop. The system picks up HDTV, very high frequency (VHF), ultra-high frequency (UHF), HD radio and FM radio signals.
By simply plugging the little receiver in and running an antenna channel scan through the menu on my television, I've been able to pick up 24 channels.
Antennas like this are commonplace. Many websites and electronics stores such as RadioShack and Best Buy carry a wide variety ranging significantly in price and ability.
The less-powerful indoor antennas can cost as little as $20, while the higher-end, mountable models can cost as much as $200.
The more expensive models boast a larger signal capture range and more consistent, sharper images. To test this, I decided to try a $170 mountable antenna. I didn't go through the trouble of mounting it on my home's roof, but by placing it in the same location as the much smaller indoor antenna, I was able to pick up eight additional channels and slightly crisper-looking pictures.
Before you get too excited from this news and go rushing off to buy an antenna, there are several factors to be considered.
First of all, do you have a digital television?
If not, analog-only televisions (manufactured before 2007) need a digital converter box since all major broadcasting stations stopped using analog signals in 2009 during a nationwide transition to digital. Basic models of these tend to run between $20 and $30.
Secondly, where do you live?
Whether or not an antenna will successfully pick up over-the-air channels directly relates to where your home is located.
How high your home sits in a general area, whether or not there are significant natural or man-made obstructions near your home (mountains, trees, buildings, telephone wires) and how close your home is to a parent station or broadcast translator all affect how many channels an antenna at your location will receive and the quality of the reception.
One good way of checking the approximate number of channels a specific location receives is by going to AntennaWeb.org and typing in your address. It will tell you how many channels from how many over-the-air stations your home may receive and map your location in relation to where the station signals are coming from. It will also identify what sort of antenna is needed to pick up each signal.
Thirdly, how important are certain channels to your television viewing experience?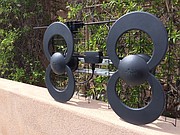 With antennas, you get what you get. There's no picking or choosing.
"There are a lot of independent channels, " said Steve Millard, a sales associate at RadioShack in Prescott Valley. "There used to be channels like three, four, five, six. Now there's like 3.1, 3.2, 5.5."
In other words, you can't expect to automatically get your favorite channels.
When Millard tried the same indoor amplified HDTV antenna I've been using at his old home on the corner of Robert Road and Spouse Drive in Prescott Valley, he was able to receive eight crystal-clear channels, but none of them were very appealing to him.
"One was the home shopping channel, two was the other home shopping channel, three was like 'Jerry Springer' all day, another was 'Hogan's Heroes' reruns, two of them were religious channels and the rest were in Spanish, so there was nothing except maybe 'Hogan's Heroes' that I was willing to watch, " Millard said.
My situation, on the other hand, is quite satisfactory; producing a healthy number of channels I'd consider spending much too much time watching.
Ultimately, it's case by case and depends on your taste.
Finally, can you live with slightly fickle reception?
You have to have a sense of humor with antennas and not be too easily disturbed by breaks in signal strength.
Take my experience, for example. As I was watching "The Simpsons, " I thought I'd go on my computer and do some research for this article. The moment I opened the laptop and my Wi-Fi signal went active on it, "The Simpsons" started to get fuzzy. Not sure what to think of this at first, I closed the laptop and "The Simpsons" came back clear and steady. I proceeded to open and close my laptop for the next five minutes with sheer amazement at how immediately the television signal reacted to such a change in the environment.
"It's as sensitive as a toothache, " Millard said. "So many different things can affect it. A ham radio signal can interfere, your neighbor's Wi-Fi … even the type of building you're in. It won't work at all here (RadioShack store) because of the steel framing in the building."
Millard said some of these issues can be solved by simply moving the antenna around the house to find a hotspot or getting an antenna that can be mounted on the roof.
Source: www.dcourier.com
Share this Post